The Alternative Carriage Company
The Alternative Carriage Company is proud to offer the Trike Hearse as an alternative to a normal hearse. We regard this as the modern equivalent of the horse drawn hearse. It can be used by anyone, not just bikers.
If you would like to travel your last mile in style, please let your family know your wishes. the hearse can be booked directly through us, or through your local funeral Director. We would be honoured to accompany you or your loved one on the final ride.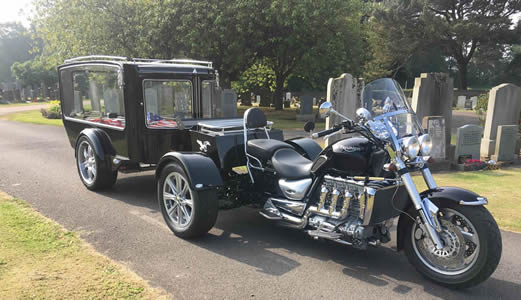 Trike Funerals (Triumph Rocket III)
Perhaps the deceased was something of a biker, or you simply want to inject some 'cool' into the funeral service; Motorcycle hearse is available to hire. All you have to do is contact us.
4x4 Funerals (Dodge Ram V8)
4x4 can be used in funeral for those off roader enthusiasts who want an impressive and modern final journey. Available to hire is a Dodge Ram 5.9ltr as we understand we are the first commercial provider of this service in Scotland.